---
We are delighted to present you the interview with the paraglider Borjan Jovanovski who is a graduate student from the International Slavic University "G. R. Derzhavin". You can read about the sport of paragliding in the interview.
---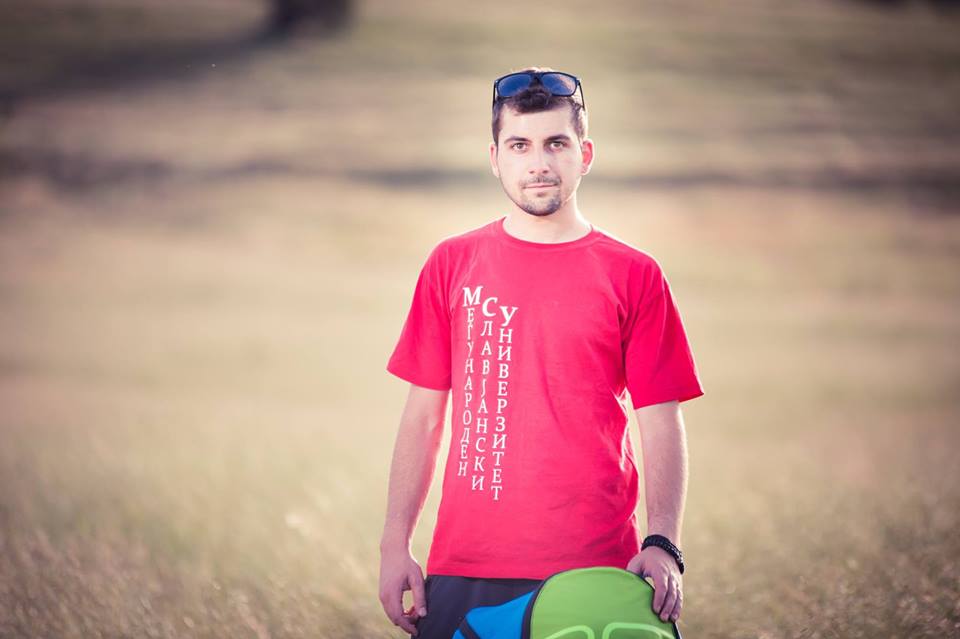 ---
How long are you involved in paragliding?
I have been involved in paragliding for ten years, since I was fourteen.
---
What arouses you to be involved in this sport?
My father and my brother have been doing this sport, and I as a little child watched them enjoying the heaven heights, achieving great results and this has aroused me to have a wish to try flying. My first flight in tandem was done at the age of six with my father, who was also my instructor.
---
How many competitions have you participated in and how many awards have you received so far?
I have participated in more than sixty competitions, and I have been to a pedestal on more than half of them.
---
In which category have you been competing and what is your current ranking?
Unlike other sports, there are no adult categories in paragliding.  All contestants compete together in the same category i.e. the older and the younger compete together.
There are few disciplines in paragliding:
Accuracy landing
Overflights
Stunts
Motor flying.
I have competed in the first two disciplines, accuracy landing and overflights.
My current ranking is the third place on the World Ranking List.
---
What are your impressions from the last competition?
The last competition was the European Cup in Romania where the weather conditions were quite difficult due to the heat and the change in the direction of the wind, and I won the second place.For me it was an experience on a new filed, with a quite big competition, and I am satisfied with the result at the same time.
---
What do you feel when you fly?
It is one the most asked questions "What do you feel when you fly?". There are no words by which the feeling can be described, but the fact that "flying is a human dream" can recapture the feeling and the meaning to fly.
---

---
What are the preconditions for a young person to start going paragliding?
He has to be sixteen and he has to be in a good psycho-psychical state.
---
In what way hast he International Slavic University helped you to live your vision?
The desire for success, training, equipment and financial support are important elements for an athlete to be successful. The International Slavic University has helped me in getting an equipment for paragliding, and with this equipment subsequently a great number of excellent results have been accomplished on pedestals at World, European and Balkan Championships.
---
Where do you see yourself in future?
In future I see myself as an athlete who will reach the top of the World Ranking List and as an instructor of many new paragliding students especially in our country. Also, I see myself as MSc in Economics at an appropriate working position.
---
What will you tell the young people who want to go paragliding?
Certainly, they should try going paragliding, and they can do that by tandem flight.
---
---
Thank you!
---