Faculty of Law at the International Slavic University "Gavrilo Romanovich Derzhavin" Sveti Nikole – Bitola is announcing
PUBLIC CALL
for the FIFTH ORATORY DAYS which will be held on April 18, 2019 at the International Slavic University "G. R. Derzhavin "in Bitola.
---
Summary
---
students from all universities in the Republic of North Macedonia can participate
students can study at first or second cycle studies
the theme is "Main speeches from History"
online reporting until Sunday, March 10, 2019
preliminary audition: Friday, April 5, 2019, 12:00 pm in Sveti Nikole
final: Thursday, April 18, 2019, 19:00 in Bitola
first, second and third place –  prizes
---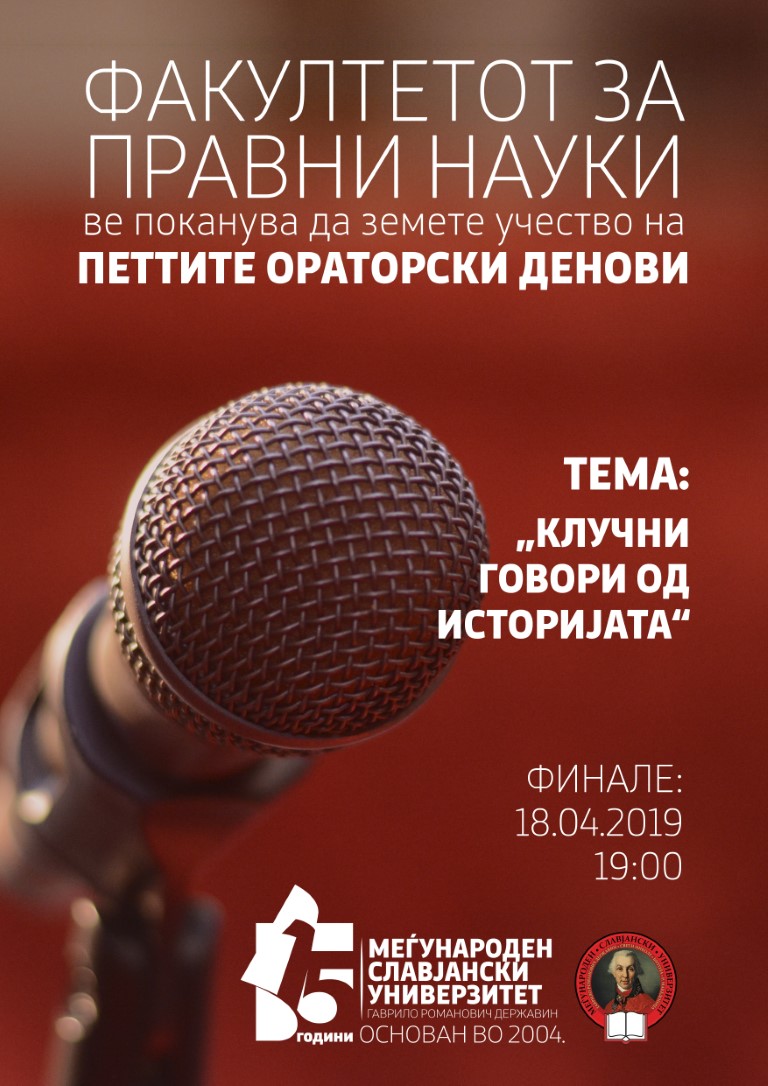 ---
Step by step
---
This year's theme is "Main speeches of History "
Students are expected to prepare a famous  historical speech or speech excerpt, no longer than 5 minutes. The content of the speech can be one of the three types of speaking (forensic /  political /  and convenient / epidemiological). The selected speech should be attached in the application given below.Може да се аплицира најдоцна до 10.03.2019.
The commission is considering the speech and confirms whether the speech confirms the conditions no later than March 22, 2019.
The candidates that will be chosen will be invited to a preliminary audition which will be held at the ISU in Sveti Nikole on April 5, 2019.
According to the demonstrated success of the preliminary audition, the commission may approve or reject the candidate's participation in the final of the event.Candidates who show success in a preliminary audition will be able to continue in the final.
The commission selects three winners in the final.
---
Commission:
---
Members of the Commission are:
PhD Ivan Efremovski, International Slavic University "G. R. Derzhavin "
PhD Gergana Djankova, Southwestern University "Neofit Rilski" – Blagoevgrad
PhD Jagoda Mitrevska, International Slavic University "G. R. Derzhavin "
two members from Veliko Tarnovo University "St. Cyril and Methodius "- Veliko Tarnovo
---
Awards:
---
First place: Gold plaque, laptop and set of books
Secon place: Silver plaque, tablet and set of books
Third place: Bronze plaque and set of books
---
Applying:
---
All interested students studying at any university in the Republic of North Macedonia can apply no later than 10.03.2019 by completing the following application:
---
Got questions?
---
Candidates who wish to participate in the oratory days can contact with the coordinators at the following e-mail address: oratorskidenovi@msu.edu.mk.