---
Study program Human Resource Management in Small and Medium-sized Enterprises (4+1)
---
Study program: Human Resource Management in Small and Medium – sized Enterprises
Faculty: Faculty of economics and organization of entrepreneurship
Degree: Master's degree / graduate / second cycle
Location: Sveti Nikole or Bitola, Republic of North Macedonia
Duration of study: 1 year (2 semesters)
Condition: have a Bachelor's degree with at least 240 ECTS
Courses: 6
ECTS of the program: 60
ECTS after completion: 300
Awarded degree: Мaster of Science / MSc in Human Resource management
Tuition fee per year for international students: EUR 2030
---
Human Resource Management in Small and Medium-sized Enterprises will help you "make room" for contemporary management models, which are more flexible, more practical and, of course, more humane. This is a one-year master's degree study program with 60 ECTS credits. In order to enroll, the student must have a bachelor's degree with 240 ECTS.
Human resource management can be defined as managing the work and the human resources in order to achieve the desired results. HRM is a key part of every organization and here the high performance of the people involved in the organization, as well as its goals, are placed at the same level.
---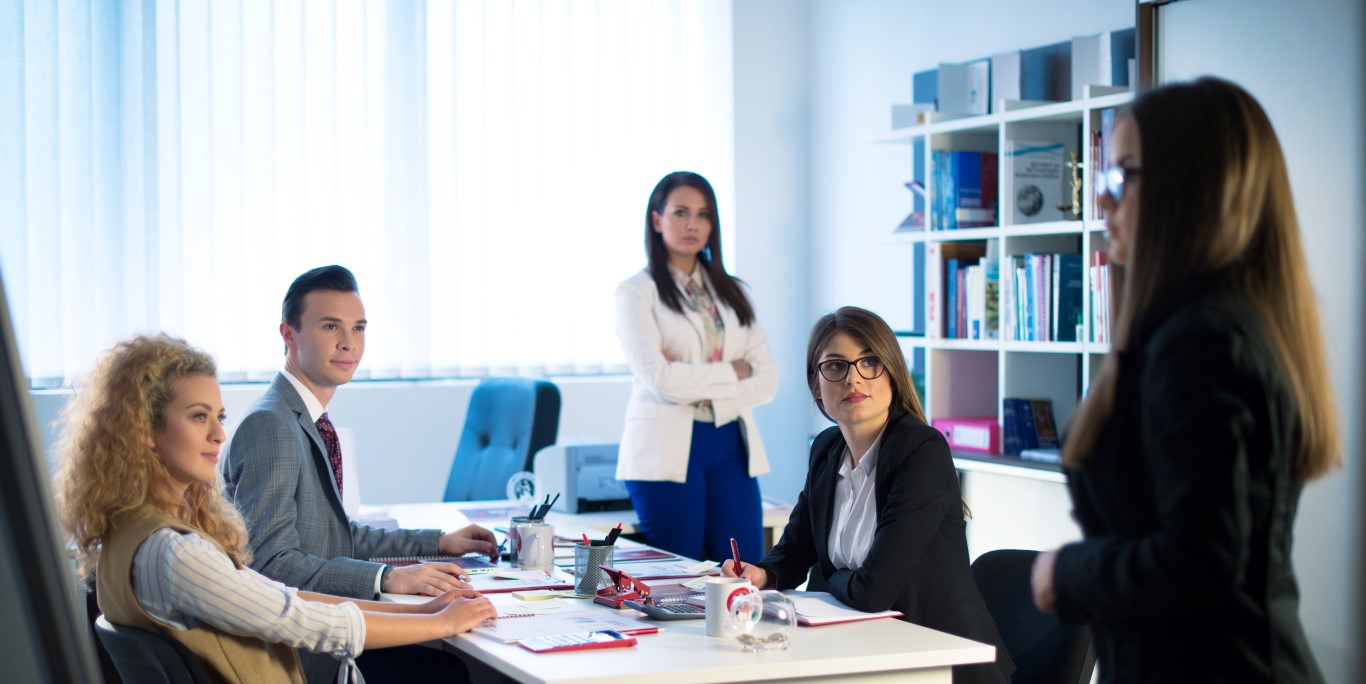 ---
In modern organizations, from all basic resources (raw materials, machines, capital, people), the emphasis is consciously put on people. Human Resource Management is a complex process, closely intertwined with other aspects of business and is a strategic partner in contributing to the realization of the set goals.
The studies will allow you to gain knowledge about the diverse human resource management activities and functions, plan the required number and structure of employees, analyze and shape jobs and job positions, gain, select and deploy employees, and develop the potentials and talents of each employee.
You will know why motivation in the workplace is important and how it is stimulated, the importance of organizational culture and its constant advancement… Also, you will learn how the authority is distributed in the organization, why do organizational policies exist and how should they be organized.
The one year study programs are  consisted of 6 courses that the students have to pass. From the 6 elective courses the student chooses only 2.
After the defense of the master's thesis you will earn a Master of science / MSc in Human Resource management (Module: Human Resource Management) degree.
---
Study program • fifth year
---
Faculty of Economics and organization of entrepreneurship
Study program Human resource Management in Small and Medium-sized Enterprises
Master of economics (Module: Human Resource Management)
One-year study program
9 Semester
COURSE
REQ./ELE.
ECTS
WORKLOAD
1
International Management
Required
6
180
2
Organizational Management
Required
6
180
3
Strategic Human Resource Management
Required
6
180
4
Corporate Finance
Elective
6
180
5
Organizational Design and Changes
Elective
6
180
6
Marketing Management
Elective
6
180
7
International Labor Markets
Elective
6
180
8
Public Sector Economics
Elective
6
180
9
Corporate Management
Elective
6
180
10 Semester
COURSE
REQ./ELE.
ECTS
WORKLOAD
 1.
Methodology of Scientific Research
Required
6
180
 2.
Master's Thesis Preparation
Required
24
720
---
Enrollment requirements
---
In order to enroll, the student must have a bachelor's degree with 240 ECTS.
The students should prepare all of the required documents, which depend on the country they come from. The international students may need to submit their Bachelor's degree certificates for nostrification at the Ministry of Education and Science of the Republic of North Macedonia. This should be done at least a month before applying for enrollment at our university.
The admissions process does not include entrance exams at the graduate level.
---
Required documents for international students
---
When applying for admission to second cycle, candidates should submit the following documents:
Certificate (diploma) of graduation/bachelor's degree;
Transcript of records;
Birth certificate;
ID;
4 document photos
For international students additional documents might be necessary. Documents for applications can be submitted at the International Slavic University "G. R. Derzavin" in Sveti Nikole, at the following address "Marshal Tito" No. 77 , and Bitola at the following address "Novachki pat" No. 16.
---
Tuition fees
---
The tuition fee per year for international students is EUR 2030. International students pay the whole amount of the yearly tuition fee at the beginning of each academic year.
---