LOGO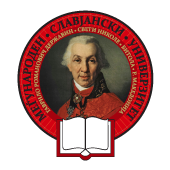 The logo of the ISU has a round shape. The portrait of Gavrilo Romanovich Derzhavin is placed in the center and on the outer edges the name of the university is inscribed. The lower part of the logo is an open book as a symbol of knowledge and education. The logo of the university is used on the delivered diplomas, certificates, memos. Gold version of the logo was used for the 10th anniversary. The same version is used for the plaque "Derzhavin" which is given to the persons who have made significant contributions to the development of the university.
---
STUDENT ANTHEM
The hymn of the university is written by Lazar Cvetkovski and is sung by the famous Macedonian singers Dimitar Andonovski and Darko Ilievski, who are our alumni.
The anthem is performed at celebrations organized by the university as a degree awarding and opening ceremonies, promotions, cultural events, etc. It is also used in promotional videos for the university, and for each department separately.
---
SLOGANS
Live Your Vision (2015)
Study on Slavic today to win tomorrow's world (2016)
My vision. (2018)